The best chew toys for Labradoodles will need to be durable, as Labradoodles can be powerful chewers!
Labradoodles are high-energy, intelligent, and prone to destructive behaviors if not kept mentally stimulated. So we've included some toys that offer some mental stimulation, and should be fun for your dog to play with!
Luckily, Labradoodles are also eager to please, quick to learn, and usually happy to direct their energy and attention into a quality dog toy. So we've done the research and have found some of the best Labradoodle chew toys and brain teasers for your dog in all of their life stages.
Products included in this article were carefully and independently selected by the Labradoodle Site team. If you decide to make a purchase from one of the links marked by an asterisk, we may earn a small commission on that sale. This is at no extra cost to you.
Contents
You can use the links above to jump straight to the toys if you're in a rush. But, before we begin, let's first take a moment to look at the different types of toys available.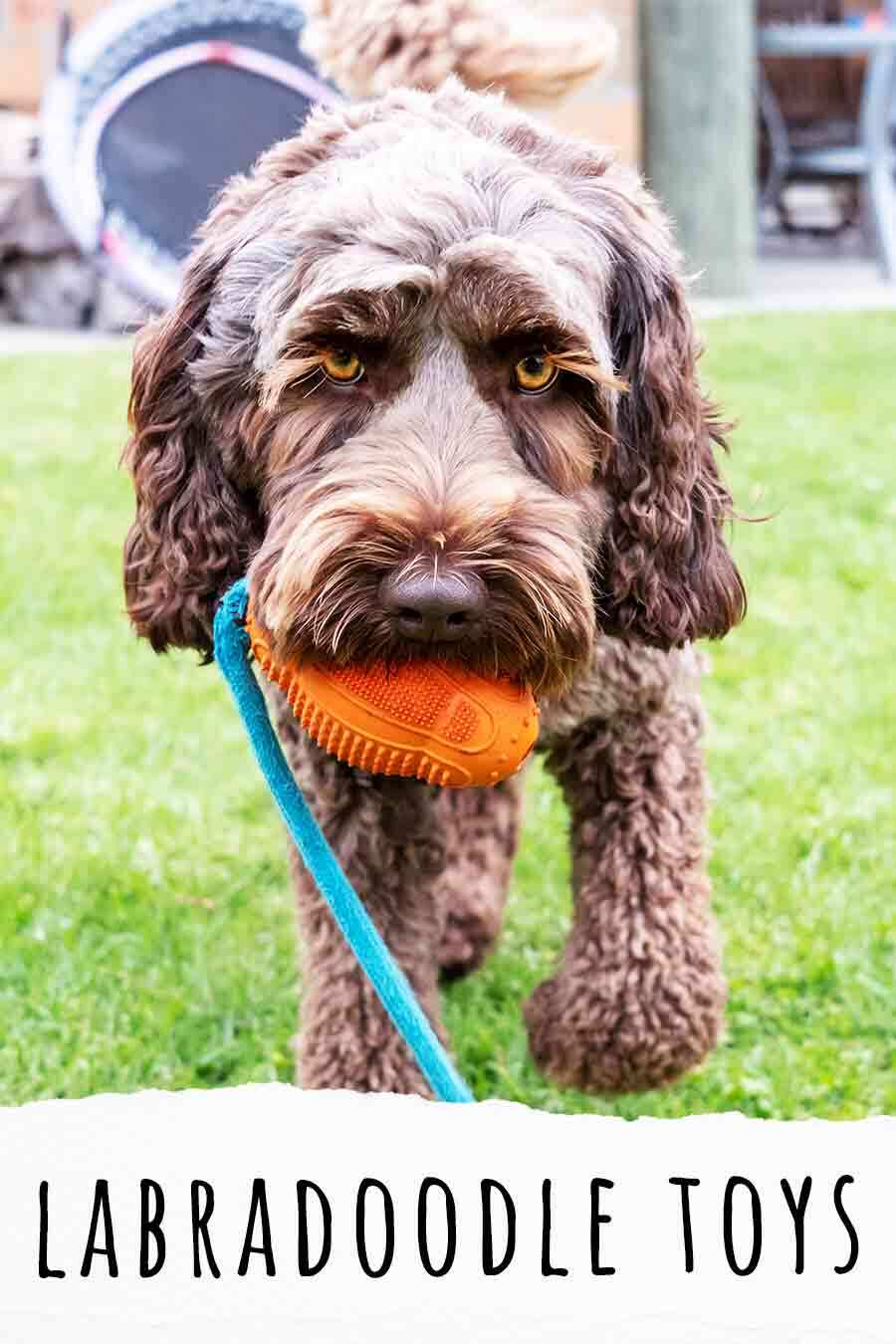 Different Types of Toys Available
There are millions of dog toys on the market these days, but not all dog toys are right for every dog.
Some toys are specifically made for smaller breeds while others are made for more aggressive chewers.
Others are made with organic materials while others are designed from plastic and include dyes.
Some of the most popular dog toy options include:
chew toys
puzzle toys
plush toys
and rope toys
While all of the above options can be great for a Labradoodle, it's important to consider the brand and type of toy before purchasing.
Most quality dog toys will display the type of dog they are targeting on their packaging.
For example, many types of dog toys will say, "for dogs under 15 pounds" or "for puppies only", etc.
Make sure you heed these instructions, as getting a toy that is not designed for your Labradoodle in his particular life stage could be dangerous.
Labradoodles are large dogs that need durable toys.
Both parent breeds have a history as retrieving dogs, so may enjoy a toy that you can throw for them. But, you know your Labradoodle best.
Ultimately, you are best placed to decide which toys they will enjoy the most.
Let's get back to our top 10 choices.
1. Best Chew Toy For Labradoodle Puppy
Teething toys like this Nylabone Dental Dinosaur* are ideal for Labradoodle puppies because they can help reduce destructive behaviors.
Anyone that's owned a puppy before knows just how painful the teething period can be.
Toys like this can keep your Labradoodle's teeth away from your own skin, avoiding those painful nips.
These toys are tough, durable teething toys with nubs and edges designed for those sharp little puppy teeth.
They can even aid in overall dental health.
One of our favorite things to do with teething toys like these during a Labradoodle's puppy stage is to freeze them.
This adds a bit more comforting relief when your puppy chews.
These are also among the best chew toys for Labradoodles because they taste good, with the above toy coming in a chicken flavor to hold your puppy's interest.
2. Benebone Puppy Chew Toy
We are also fans of the Benebone Puppy Dog Chews* for Labradoodle puppies.
These toys are softer and made for younger puppies, so they are not ideal for young adult or grown Labradoodle dogs.
Like the previous option, these chews are flavored to keep your puppy's interest.
They come in two different, interesting shapes that will be easy for your Labradoodle to hold whilst they chew.
The two toys have different textures, one with ridges, and the other more smooth.
So, your puppy has a bit of choice.
Chews like this are great for teething puppies to relieve a little of their discomfort, and to save your own skin from painful bites!
3. Nina Ottosson Puzzle Toy
Puzzle toys can help with chewing, because a lot of chewing behavior is triggered by boredom. Every Labradoodle has their quiet moments. And that's a great time to get together with your dog and play with a good quality dog puzzle toy. One of our favorites for brainy breeds and mixes is Nina Ottosson Puzzle Toy*.
This is a toy designed to be used with treats and encourages your dog to think, in order to get to the tasty treasures.
As Labradoodles get older, they become increasingly more intelligent and are more prone to experiencing boredom and anxiety.
You can help alleviate this by investing in the best Labradoodle toys you can find.
These toys can also be ordered in different styles and varieties, and you can even customize them to your specific dog's brainy abilities.
This puzzle toy is made of plastic, so is washable with soap and warm water.
But, be aware that this is not a toy to leave with your dog to play with alone.
It isn't a chew toy, it's a toy that you and your dog play with together.
4. Volacopets Interactive Dog Toys
Another puzzle toy we love for Labradoodle dogs are Volacopets Interactive Dog Toys*.
These dog toys include a variety of toys like interactive balls, squeaky toys, treat balls, and puzzles to keep your clever Labradoodle engaged with or without you at his side.
The Medium-Large size pack is best for adult Labradoodles, who are large breed dogs when fully grown.
These balls are each slightly different from one another, with different textures, shapes, and sizes.
So, your Labradoodle has a lot of choice when playing.
You might want to consider cycling your dog's access to these balls, so he never gets bored of them!
5. KONG Classic Dog Toy
Of course, no dog toy basket is complete without a KONG Classic Dog Toy*.  The Kong is a brilliant invention and comes in a range of different strengths and sizes. The large red variety is perfect for most adult labradoodles to chew on. There is an even tougher black version if you Labradoodle is a power chewer!
KONGS are ideal for both puppies and adult dogs and are wonderful tools to use when crate training or when leaving your dog during the day while you're at work.
Of course, your dog will enjoy his KONG any time of day, especially when it's full of tasty treats.
You can also freeze these toys with food inside, making it a little harder for your dog to get the food out, and encouraging some relaxed playtime.
This KONG toy is designed to bounce in unpredictable directions when thrown.
Your Labradoodle will love to chase it as it bounces around your house or yard!
6. BLUEISLAND Rope Toys
Rope toys like this BLUEISLAND dog rope toy* are great for Labradoodles that love to chew on things.
This toy is specifically designed for large dog breeds.
Some Labradoodles are more aggressive chewers than others.
If your Labradoodle is part shark, a rope toy like this is a great durable choice.
It is knotted with frayed ends, so your dog will love gnawing on the different bumps and textures.
On top of this, chewing on rope toys can be a great way for your Labradoodle to clean their teeth.
And, it is machine washable, so you can keep your dog healthy and your house smelling fresh.
7. BarkBox Plush Squeak Toy
Labradoodle puppies may well enjoy cuddling up with a few soft toys in the first few weeks. The BarkBox Plush Squeak toy* is a great option for Labradoodles that enjoy more gentle playtime.
Remember, these toys are not suitable for heavy or destructive chewers. But are better suited to very young puppies. You may need to remove them once your puppy reaches three to four months of age
This one is a large, plush toy in the shape of a sloth!
But, if you don't love sloths, you can choose a different design, like a cactus, or pineapple.
This toy option has a number of different fabrics that your dog will love the feel of.
Plus, inside is a wonderful squeaker, that will make chewing fun and rewarding.
Whether your Labradoodle loves cuddling up with their toys or just making as much noise as possible, this is a great option.
But, remember to remove any pieces that your dog does chew off. Even fabric can be problematic if swallowed.
8. Best Soft Chew Toy For Labradoodles
The Kong Knots range are a half way house between a really tough rubber chew toy and a soft toy. This is an extremely good toy for puppies as it has a soft surface but the puppy can bite down on the tough knotted rope inside.
The KONG Scrunch Knots Raccoon* is a favorite with large dogs and may last your dog for six months or more.
This popular toy is designed with less stuffing inside, so if your Labradoodle's teeth get through the softer outer layer, there will be less mess for you to clean up.
It has realistic flexibility in its sides, and contains a squeaker.
Your Labradoodle will find chewing on this raccoon toy very rewarding.
Even if your Labradoodle does manage to completely destroy the outer layer, they can just continue playing with the rope toy hidden inside! Just be sure to discard any loose pieces.
9. Arm & Hammer Gorilla Chew
Labradoodles that love to chew on everything will enjoy playing with the Arm & Hammer Gorilla Chew*.
This chew toy is covered with interesting textures.
Lots of nubs and grooves that will be perfect for keeping your Labradoodle's teeth clean as he or she chews.
You can also hide treats inside to encourage your Labradoodle.
They'll have so much fun trying to get those little treats out from inside!
This toy is made from rubber, so there is a little natural give to protect your Labradoodle's teeth from breaking as it chews.
Like any other toy, make sure to remove any pieces that get chewed off – although it will be a challenge for your dog with this option!
10. A Classic Tennis Ball!
We've included a link here to some classic KONG Tennis Balls* which have squeakers inside to keep your Labradoodle even more interested.
But, in reality, any tennis ball will be great too!
And, you can find them in pretty much any pet store.
Choose standard sized tennis balls rather than small versions so your Labradoodle cannot swallow or choke on them.
Both parents of the Labradoodle (the Labrador and the Poodle) love to retrieve.
So, your Labradoodle is bound to love chasing one of these tennis balls across a field and bringing it back to you.
Just remember to remove tennis balls that break open so your doodle dog cannot swallow any pieces.
Why is Investing in the Best Labradoodle Toys so Important?
Labradoodles are mixed breeds, meaning they are the offspring of the purebred Poodle and purebred Labrador Retriever.
Both of these dog breeds are bred working dogs with lots of energy to burn.
They are also known as some of the world's smartest breeds.
It's no surprise that their Labradoodle offspring would be just as brainy and energetic.
Dogs with lots of intelligence and energy to burn can be wonderful companies to the right family.
But they can also be more prone to problematic and destructive behaviors if their exercise and mental stimulation needs are not met.
Along with keeping your Labradoodle routinely exercised, it's also important to invest in the best Labradoodle toys to help keep your Labradoodle's brain working and healthy.
These toys can also help soothe anxiety, reduce destructive behaviors, and even keep your Labradoodle entertained and happy while you are away.
Choosing the Right Toys for Your Labradoodle
When picking the best Labradoodle toy for your dog, consider your dog's personality and what he enjoys doing during his free time.
Is your Labradoodle a chewer?
Or does he prefer learning new tricks and exploring?
Does your Labradoodle like to cuddle with toys.
Or does he enjoy playing tug of war or more destructive games with his plushies?
Knowing your Labradoodle will help you be able to better pick out the best Labradoodle toy for him.
It's also important to understand that Labradoodles in different life stages will need different types of toys to aid in their development.
Puppies, for example, will do well with teething toys and smaller, softer KONGS to help keep them occupied and happy.
Adult Labradoodles will likely appreciate toys that help aid in exercise like balls, interactive and puzzle toys.
They also love strong chews they can distract themselves with when you are busy or away.
If you are choosing toys for your puppy before they arrive, you might want to get a selection – perhaps one toy from each category that we looked at right at the start of this guide.
This way, you can see which type your Labradoodle responds best to before investing lots of money into more toys.
Other Ways to Entertain Your Labradoodle with Toys
Along with investing in the best Labradoodle toys for your Labradoodle, you might also consider a storage container to keep these toys in.
Because Labradoodles are so intelligent, only give your Labradoodle a few toys at a time.
Then you can switch them out with new ones now and again to keep things interesting.
You can also help encourage your Labradoodle to build healthy, independent habits using toys.
Labradoodle dogs are family-oriented and will do best in homes where their owners are around often, but it's still important for them to know how to be alone.
Keeping your Labradoodle on a schedule and allowing him to have time to himself with a favorite toy can help reduce anxiety and stress, and help your Labradoodle see that being on his own from time to time is actually a good thing.
The Best Chew Toys For Labradoodles
The best semi-permanent chew toys are Kongs and Nylabones. These will last many months, even years. All young dogs like to chew on softer toys too, and the Kong Knots range is perfect for this purpose. Soft toys can work for very small puppies but tend to have a short life. You may also find that puzzle toys and training games, help reduce any destructive behavior around your home.
We hope this article has been a helpful guide on the best Labradoodle toys for your playful pup. Now we want to hear from you.
What do you think is the best Labradoodle toy on our list?
Have you tried any out on your pup?
Let us know your thoughts in the comment section below!
Affiliate link disclosure: Links in this article marked with an * are affiliate links, and we may receive a small commission if you purchase these products. However, we selected them for inclusion independently, and all of the views expressed in this article are our own.
References and Resources
Paterson, S. 'Food Hypersensitivity in 20 Dogs with Skin and Gastrointestinal Signs', Journal of Small Animal Practice (1995)
Farrell, L. (et al), 'The Challenges of Pedigree Dog Health: Approaches to Combating Inherited Disease', Canine Genetics and Epidemiology (2015)
O'Neill, D. 'Progress in Purebred Dog Health Since the Bateson Report of 2010', Vet Record (2014)