The best shampoo for Labradoodles will get deep into the curls and waves in their coat to gently remove any trace of dirt and grime!
One of the most popular traits of the Labradoodle breed is their coat! Labradoodles have soft, curly, and low shedding coats. But, the curlier your Labradoodle's coat, the more grooming they need. And, bathing is an important part of grooming, particularly when your Labradoodle's coat is dirty. Such as, after a muddy walk! So, choosing the right shampoo for your Labradoodle is important to keep their coat looking its best.
All of these products were carefully and independently selected by The Labradoodle Site team. If you decide to make a purchase from one of the links marked by an asterisk, we may earn a small commission on that sale. This is at no extra cost to you.
How to Choose the Best Labradoodle Shampoo
Choosing the best shampoo for your Labradoodle's needs isn't always as simple as you'd think. There are three major factors to consider. Firstly, what coat type does your Labradoodle have? Hair coat types are the straightest and usually the highest shedding. Wool coats have tight curls and can tangle easily. And fleece coats fall somewhere in between.
Secondly, you must consider the age of your Labradoodle. Puppy coats are very different to adult dog coats! And so, their needs will usually be different too. Puppies often need a shampoo that is very gentle on their skin, and will need to be introduced to bathing slowly with positive reinforcement.
Finally, you must also consider any particular skin problems or special care needs that your Labradoodle has. For instance, sensitive skin shampoos can contain ingredients known to soothe the symptoms of problems like atopic dermatitis or skin infections. We'll take a look at some of the best options available today to help you narrow down your choice.
Best Shampoo for Labradoodle Dogs
The best shampoo for your Labradoodle will consider their specific skin needs, their age, and their coat type. You should choose a shampoo with dog-safe ingredients. Don't choose one designed for humans, as these can often contain essential oils and other ingredients that can irritate your dog's skin and dull their fur.
Most shampoos for dogs will have minimal perfume, if any. Too much perfume can also irritate your dog's skin! Here are some options that could be just right for your adult Labradoodle.
Healthy Breeds Deodorizing Shampoo
What makes the Healthy Breeds Deodorizing shampoo* great:
Fatty acids to promote hydrated, nourished skin and coat
Designed to soothe and prevent flaking skin
Specifically formulated for Labradoodle fur
Deodorizing with a sweet pea scent
Safe to use with topical flea treatments
This shampoo is recommended for Labradoodles that are suffering with fleas, skin flaking/scaling, or very smelly fur! So, if your Labradoodle has rolled in something stinky, or is just starting to smell especially "doggy", this could be the best shampoo for you.
It comes in a 16 ounce bottle. And, if this product suits your Labradoodle well, they might also benefit from the other many grooming products the Healthy Breeds brand has. Including an ear cleanser, and tear stain wipes.
Tropiclean Perfect Fur for Curly & Wavy Coats
What makes Tropiclean Perfect Fur* great:
Designed to loosen knots and tangles in curly fur
Adds volume and lift to coat after washes
Doesn't impact topical flea treatments
Specially formulated for dogs with tightly curled fur
If you have a Labradoodle with wool or fleece type coats, the Tropiclean Perfect Fur shampoo might be your best option. This shampoo is designed to get deep into tightly coiled curls to remove any dirt and grime and wash away easily. It's also designed to add an extra lift and bounce to your dog's fur to keep them looking their best after every wash!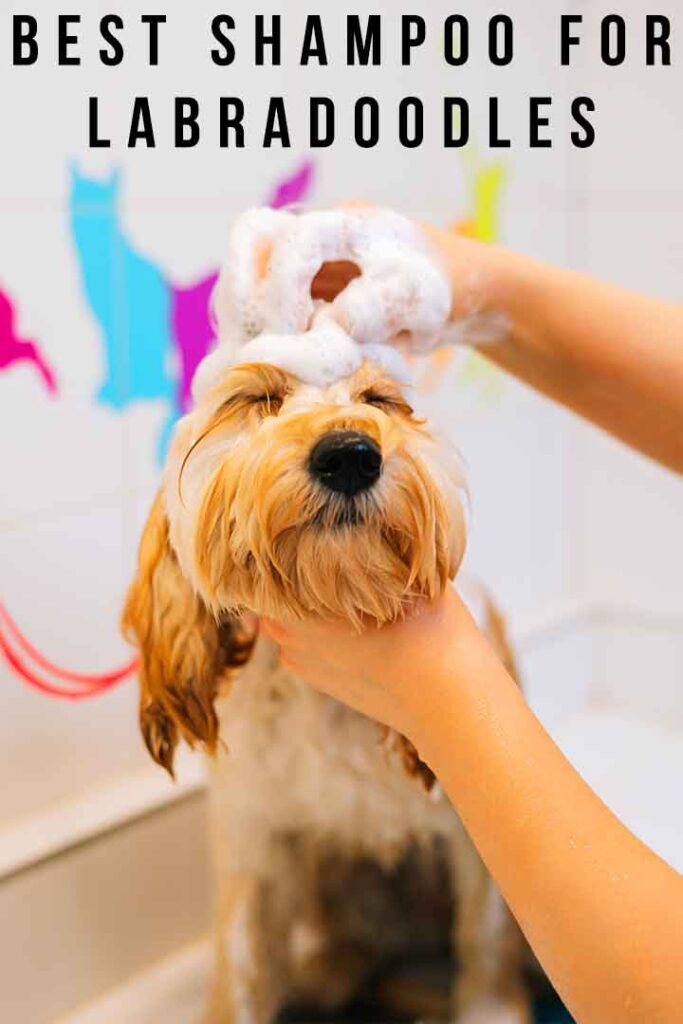 Tropiclean 2 in 1 Shampoo and Conditioner
What makes Tropiclean 2 in 1* great:
Cleans and conditions coat in one wash
Papaya and coconut scent to mask bad smells
Spill resistant packaging
Comes in a huge range of sizes
The Tropiclean 2 in 1 option is both a shampoo and a conditioner. Not only does this mean fewer products for you to massage into your dog's fur and wash out, but it's also less waste! And, if you love the Tropiclean shampoo, you can purchase bottles as large as 2.5 gallons.
This shampoo and conditioner duo contains ingredients like oatmeal and neem oil to soothe itchiness in dogs with skin problems. But, if your dog has sensitive skin, it's particularly important to patch test before using a new product over all of their body.
Paws & Pals 5 in 1 Shampoo
What makes Paws & Pals 5 in 1* great:
Contains ingredients like oatmeal and turmeric to soothe sore, itchy skin
Cleanses and moisturises skin in one wash
Comes in various sizes
Detangles fur for easier brushing
If you love the convenience of 2 in 1 shampoos, you'll love the Paw & Pals 5 in 1 shampoo. Not only does this shampoo cleanse and moisturise your dog's fur, but it de-tangles, controls odor, and soothes itchiness. So, if your Labradoodle doesn't enjoy bath time, this can be a great way to shorten the length of the process.
This shampoo also comes in a variety of sizes, so if you love it, you can buy it in larger quantities.
Nature's Specialties Plum Silky Dog Shampoo
What makes Nature's Specialties shampoo* great:
Cleanses and conditions fur
Designed to suit all coat types
Lasting fragrance
Contains ingredients like aloe vera to soothe sensitive skin
Nature's Specialities Plum Silky Dog shampoo is one of the best for eradicating bad smells. So, if your Labradoodle loves to roll in stinky things, or loves to get into messy predicaments on your walks, this could be the best option for you.
Not only does it wash away muck and smells, but it also soothes skin and conditions your dog's fur. The standard bottle contains 32 ounces of product.
Best Puppy Shampoo for Labradoodles
Not all shampoos will suit puppies as well as adult dogs. Labradoodle puppies have a different coat when they're very young. Over the first year of their life, this coat will shed away to reveal their adult coat.
Puppies often have more sensitive skin than adult dogs. Some ingredients found in shampoos for adult dogs will be too harsh for puppies. But, bathing your puppy is still important, as it socializes them to the process. If you never wash your puppy, bath time can be a stressful, overwhelming experience as an adult dog. So, it's important to find a safe, soothing shampoo for your Labradoodle puppy. Here are some of our favorite options.
Pet Care Sciences Puppy Shampoo
What makes the Pet Care Sciences puppy shampoo* great:
Specifically designed to be gentle on sensitive skin
Soothes tangles without stripping natural oils in the fur
Subtle coconut scent
The Pet Care Sciences puppy shampoo is a great option for your Labradoodle puppy. It cleanses fur and gets deep into knots and tangles to make untangling easier. This shampoo also has a mild coconut scent, to leave your Labradoodle puppy smelling fresh but not overwhelming.
This shampoo comes in a variety of bottle sizes. But, it recommends waiting until 12 weeks of age before using it on your puppy.
Wahl Gentle Puppy Shampoo
What makes the Wahl Gentle Puppy Shampoo* great:
High concentration of product, so you can use less
Designed for sensitive skin
Cornflower and aloe scented
The Wahl Gentle Puppy shampoo is another great option for young Labradoodles with sensitive skin. It has a mild cornflower and aloe scent, and plenty of ingredients that will be gentle on your Labradoodle's skin.
This shampoo has a high concentration so you can get more baths from your product. It's designed to scrub into a thick lather, to help you get dirt deep in your puppy's coat.
Isle of Dogs Everyday Puppy Shampoo
What makes Isle of Dogs Everyday Puppy Shampoo* great:
Sulfate and paraben free
Mild formula designed for puppies
Long-lasting orchid and cotton fragrance
The Isle of Dogs puppy shampoo is designed as a gentle and effective cleanser. It is described as tearless and safe to use on your puppy's face, but you should always try to avoid getting products in your dog's eyes.
How to Wash a Labradoodle
All Labradoodles are slightly different depending on the fur type they inherit. Curlier fur is more likely to trap dirt and tangle than straighter, shaggier fur. So, if you have a wool or fleece type Labradoodle, you'll need to take extra care and time when massaging in shampoo and rinsing it away.
Before using a new product, you should always patch test on your Labradoodle. This will ensure that your dog or puppy is not allergic to any of the ingredients. Wash a small patch of your Labradoodle as you normally would, make sure everything is thoroughly rinsed away, and keep an eye on the patch for 24 hours. If you notice any redness, itchiness, or rashes, your dog could be allergic to one of the ingredients.
When washing your Labradoodle, you must first wet their fur completely with warm water. Massage your chosen shampoo into the wet fur and lather it up well. Be gentle on any knots, but work the product deep to get any traces of dirt. Once your Labradoodle is fully shampooed, rinse the product away, removing any trace of shampoo.
You may need to repeat this step. Afterwards, you can use a conditioner. Once washed and conditioned, make sure your Labradoodles fur is fully dried, particularly their ears to avoid any infections.
How Often Should You Wash Your Labradoodle?
It can seem like a good idea to wash your Labradoodle as often as possible, to keep them clean. But, washing a dog too often can actually do more harm than good. Washing too often can strip away the natural oils that keep their fur soft and healthy.
Once a month is frequent enough for most Labradoodles. However, some may need less frequent baths. And, others may need less time between washes if they roll in something dirty or smelly.
Puppies can generally be washed as needed. But, it's important to socialize your puppy to bathtime and grooming from a young age. Work at your dog's pace to keep things happy and calm. Pairing bathing with treats can be a great way to achieve this. Check out our guide to bathing your doodle for more information
Best Shampoo for Labradoodles
The best shampoo for Labradoodles will depend on their coat type, skin sensitivities, and more. Not all Labradoodles will suit the same shampoo. Since all dogs are individuals, their needs will differ.
Choosing the right shampoo can help to keep your dog's coat healthy and shiny as well as clean. So, it's an important decision. If you've tried any of these shampoos, we'd love to hear your thoughts in the comments. Are there any other options that you would recommend? Let us know!
Readers Also Liked
References and Resources