The first days at home with a new Labradoodle puppy are exciting and nerve-wracking. They are also full of new experiences for you both. Today we are going to help you set yourself up for success. We have lots of tips to help you prepare for bringing your Labradoodle home and get you through those first few days and weeks!
The first few days are important to show your puppy they can feel comfortable around you and their new home. You can even get started on some very basic training!
First Days at Home with a New Labradoodle Puppy
Every day, some lucky person wakes up to their Labradoodle puppy's first days at home. Perhaps this describes you right now! If so, we imagine you are excited, a little nervous, and just a touch sleep-deprived from thinking about meeting your puppy all night.
It's very important to all first time puppy owners that they get everything right. Starting off on the right foot with your puppy can encourage a strong bond and great puppy manners from the beginning!
Raising a Puppy is a Lot of Work
Raising a puppy isn't always easy. Potty training, socialization, and those first few trips to the vet can be stressful. Don't worry, it's normal! But, raising a Labradoodle puppy can also be a lot of fun. And of course, Labradoodle cuteness can really sweeten those tougher moments.
Making sure you're fully prepared before your puppy actually comes home can make the whole process a lot smoother. This involves choosing the right supplies, learning about training and socialization, and finding a good veterinarian.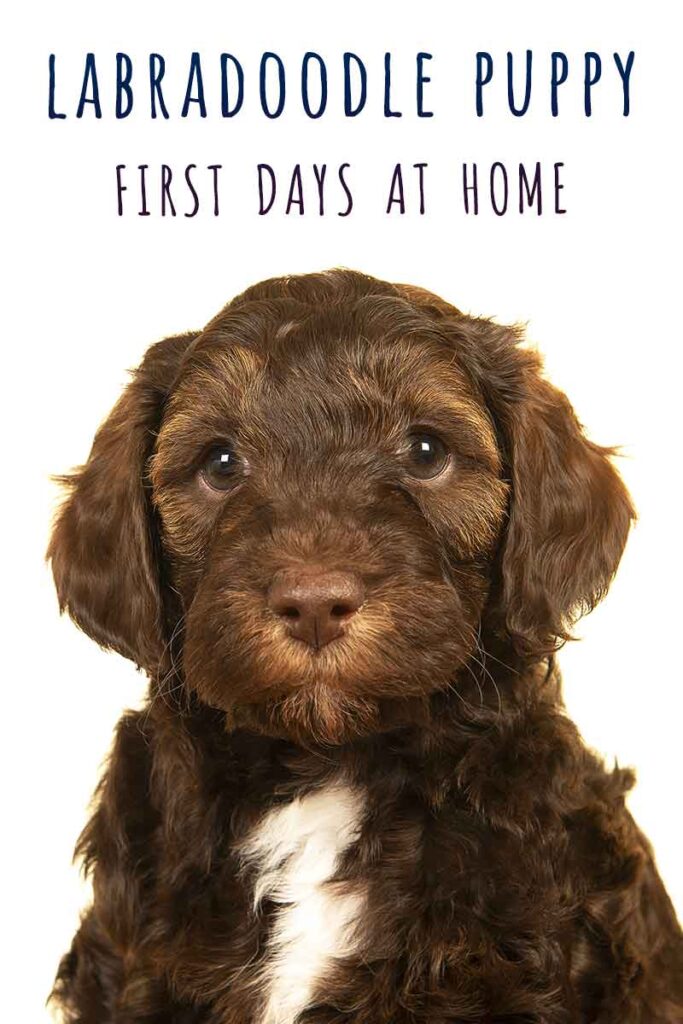 Finding and Choosing a Veterinarian
The first thing new puppy owners must do is find a great canine veterinarian. From early on, vet visits will involve general check ups, vaccinations, pest treatments, and more.
If you've chosen a reputable breeder when buying your puppy, it's likely that they will already be started on vaccinations and pest treatments. So, find out this information from the breeder and pass it along to your veterinarian.
Puppy Supplies Checklist
This checklist is a great guide for new puppy owners. Speak to your breeder too, as they may have suggestions or specific recommendations to add.
Leash and collar (puppy fit) with ID tags
Food and water dishes
The same puppy food that your puppy's breeder was using (You can transition to something different after the first few days if you want to
Puppy treats
Puppy teething and chew toys
Appropriately sized crate or large crate with a divider
Bedding and blankets
Puppy pee pads (if you are using this training method
Poop bags
Puppy toothbrush and puppy-safe toothpaste
Brush and comb suitable for your Labradoodle's fur type
Training clicker or other positive reinforcement training tools of your choice
Urine and odor removing cleaning products
Baby gates or puppy pen to create a puppy zone
Those are the most important items that you will need for your new puppy. Of course there are other things that can be useful, but not everyone will choose to get them.
For instance, you may want a bed that your puppy can use other than the one in their crate. You may want to invest in a harness in preparation for taking your puppy outside at 12 weeks. And, you might like items like a puppy sling to make carrying your Labradoodle easier during socialization sessions.
Check with your Breeder and Veterinarian
As we mentioned earlier, it's a great idea to speak to your breeder and your chosen veterinarian about this list. They may be able to recommend specific products that they have tried and tested before. Alternatively, they may be able to add on extra things that will be useful for your specific lifestyle and situation.
Puppy Proofing Your Home
Before your Labradoodle puppy's first days at home, you must puppy proof your house and yard. Your new Labradoodle puppy will explore the world with their nose and mouth.
They will lick and chew almost everything they come across, from chair legs and accessible valuables to clothing and fingers. Plus, they may also pee in places and on things you don't want them to. But we will talk more about potty training a little later.
Generally, it's easiest if you can keep your puppy in a room with washable floors for their first few days, until they're settled in and are gaining control over their bladder. This will keep destruction to a minimum. But, choose a room you're happy to spend your time in too, as you shouldn't leave your puppy alone in those first few days. Doing so can make them stressed and anxious!
Puppy Proofing Checklist
Here's a quick list of basic household items and areas to check before your Labradoodle puppy's first days at home.
Remove all toxic or poisonous greenergy from your home and yard, including houseplants
Remove any heirlooms or irreplaceable items, including furnishings
Reroute electrical wiring, or cover it with a chew-proof cord concealer
Install child-proof latches on all cabinets, drawers, and doors
Secure all cleaning products, pesticides, fertilizers, medication, and any unsafe or toxic foods
Clear your kitchen counters – a puppy that jumps up and finds food will keep doing it!
Puppy proof all indoor and outdoor water features, spas, and pools (including the toilet!)
Make sure your trash cans are puppy proof, even if knocked over
Put away any small or sharp objects that could get swallowed – including socks
Ensure your yard perimeter is secure against jumping, digging and breaking out
Invest in an escape-proof gate latch
You'll be surprised at just how much trouble Labradoodle puppy can cause and get into. Properly puppy proofing your home before their arrival will save you a lot of stress, panic, and trips to the emergency vet.
Basic Puppy First Aid Kit
An important thing to note here is that you should always speak to your vet first before administering any type of medical help to your puppy. But, there are a few things that are useful to have at home. You vet may advise you to use these over the phone before you can bring your Labradoodle puppy in. Here are some useful products to keep in your puppy first aid kit:
Weather vest (in case of anxiety during storms, fireworks, etc.)
Gauze pads and tape
Cotton tipped swabs and cotton balls
Antiseptic wipes
Hydrogen peroxide and isopropyl alcohol
Styptic powder
Saline solution and gel for eyes
Blunt end scissors and nail file
Tweezers
Small oral syringe
Flashlight
Hand towels
Topical antibiotic (OTC and dog-safe
Mild, dog-safe soap
Ice pack
Phone numbers and addresses for the nearest emergency veterinary care clinics
Of course, if anything happens to your puppy, you should speak to your vet before administering any medical care. But, this general list will help you out in emergencies and minor problems, with your vet's OK.
Keeping Your Puppy Company
From day one your puppy will want to bond with you. In fact, during those first few days, your puppy will have a strong instinctive "safety response" that means they will want to be wherever you are. This could stretch into a few weeks, but will likely fade as they gain confidence around their new home.
During those Labradoodle puppy first days at home, everything will feel new and strange to them. This is especially true for puppies that come home between 8 and 11 weeks old, as this is when puppies go through a fear impact period that heightens their fear response.
So, as much as possible, stay with your puppy outside of naps. Giving your puppy an item of clothing that smells like you can reassure them during nap time too.
What About Work and Nighttime?
We recommend that you take some time off work when your first bring your Labradoodle puppy home. They won't feel safe or secure being left alone, particularly at such a young age, in a house that's new and scary to them.
Try to spend all of your time with your puppy to help them settle in. You'll soon notice them gaining confidence and straying further from you around the house.
For the first few nights, it can also help to either sleep next to your puppy's crate, or keep them in a temporary bed next to your own. This way, they can see you if they wake up scared in the night. And, you will hear them more easily, which can assist with nighttime potty training.
Choose a Potty Training Method
The two main methods that people choose between when potty training a puppy is using puppy pads, or training them to toilet outside from the start. If you're going to use puppy pads, you will need to line your puppy zone entirely to start with. You can slowly remove these pads and teach your puppy to only toilet in one small area over time.
If you're training your puppy to toilet outside from the very start, you will need to take them outside very often. In these first few days, trips outside can be as often as every 20 minutes. The key here is preventing your puppy from toileting indoors, so they learn where they should be going. If your puppy gets distracted outside, rather than going to the toilet, it can help to place them in a puppy pen outside when it's time for a pee break.
Puppies like to toilet on grass, or soft surfaces, so put your pen over this if possible. And, if your puppy just isn't peeing outside in one of your trips, you can take them in. But, carry them in your arms for ten minutes, and then try again outside. Puppies are less likely to pee whilst you're holding them!
Most of all, no matter which method you choose, be consistent, praise your Labradoodle for toileting in the right place, and clean any accidents with an enzyme cleaner.
Obedience Training
If you are new to dog ownership and obedience training, you may also want to identify a local dog training program or K-9 trainer who can work with you and your new puppy.
Even if you prefer to train your puppy yourself, working with a professional or taking an online obedience class can provide valuable pointers for you and socialization opportunities for your puppy.
Your Labradoodle puppy's first days at home will be more about settling in than getting started on training. But, you can use positive reinforcement to start on your bond with your puppy.
Hand feed your Labradoodle their kibble so they form a great association between you and something they already love – food!
Socialization
One of the most important things for all puppies is proper socialization. Before puppies are fully vaccinated, they are at risk of disease when you take them outside. So, you should not put your puppy on the ground anywhere other than the small toilet training area in your yard until they are vaccinated. However, puppies must be socialized to different experiences, animals, and people before the age of 12 weeks.
In those first few days home, you can work on socializing your puppy to different things inside your home. Arrange for visitors to come and see your puppy, expose them to different sounds, and keep all new experiences positive.
After those first couple of days, when your puppy is feeling more confident around you, you can take them out in a puppy sling to experience things outside the home without touching the ground.
New Labradoodle Puppy Schedule
Every puppy is slightly different to the next, so each owner will have a slightly different daily schedule. But, getting on a regular schedule of feeding, potty breaks, obedience training, and crate training from day one can make things much easier for you.
A daily schedule of activities will be very reassuring to your new puppy. But, it will also make it easier for you to keep track of your puppy's progress. It will make it much easier for you to spot if anything is wrong, like a change in your Labradoodle's appetite.
A Schedule Example
Here is a template schedule that you can use as a base for your own:
06:00 AM – Wake up
06:05 AM – Potty break
06:15 AM – Cuddles and play
06:30 AM – Potty break
07:00 AM – Breakfast
07:20 AM – Potty break
08:00 AM – Free play time
08:30 AM – Obedience training
09:00 AM – Potty break
09:20 AM – Crate training and nap time
11:00 AM – Potty break
11:15 AM – Lunch
11:35 AM – Potty break
11:45 AM – Free play time
12:15 PM – Obedience training
12:35 PM – Potty break
12:45 PM – Crate training and nap time
2:45 PM – Potty break
3:00 PM – Free play time
3:30 PM – Obedience training
4:00 PM – Potty break
4:15 PM – Crate training and nap time
6:00 PM – Potty break
6:15 PM – Dinner
6:35 PM – Potty break
6:45 PM – Free play time with family
7:45 PM – Potty break
8:00 PM – calm play or cuddles before bed
10:00 PM – Final potty break
10:30 PM – Bedtime
Variation
Remember, if you are training your puppy to toilet outside from the start, your potty breaks will extend into the night. And, you may find that your potty breaks need to be more frequent than the ones in our schedule example. Just listen to your puppy, and keep an eye on their behavior.
You can be flexible with your schedule. And, before long you'll find yourself in the swing of your new routine. As your puppy grows, you can reduce their nap times and potty breaks, and replace them with a more structured training routine! And remember, if your family includes young children, be sure to supervise their interactions and playtime with the puppy.
Very young puppies won't know not to bite yet, and could hurt young kids. And, young kids who don't know how to properly look after puppies may not be as gentle as they should.
Your Labradoodle Puppy First Days at Home
Are you preparing to welcome a new Labradoodle puppy into your life? You might be nervous, but don't worry! Those first few days with your new puppy will be exciting and fun, even if they are pretty tiring!
References and Resources