Not long ago, the New York City subway changed its rules so that all pets including dogs had to be carried 'in a container'. Photos quickly appeared of resourceful owners who had cut leg holes into tote or duffle bags, so that their large-breed canines could still walk by their side. But it did get me wondering about what's acceptable and what's outlawed more widely. In general, are dogs allowed on trains? Or is it the other way round? Perhaps unsurprisingly, I've discovered that almost every state and every operator has its own rules. So here's an introduction to some of the possibilities, the things to check before you travel, and some tried and tested wisdom for taking the stress out of your journey.
Contents
Are dogs allowed on trains?
In the United States, different train operators have different rules and restrictions on traveling with dogs. In some cases, the same operator even applies different rules on different routes and at different times. This means restrictions on traveling with your dog vary a great deal according to where and when you want to travel. They can apply to:
How many dogs are allowed on board, per passenger.
How many dogs are allowed on board, in total.
Whether the dog counts as part of your luggage allowance or not.
Whether they can stay with you, or if they have to ride in the baggage car.
The size of your dog. Some services define an upper weight limit, whilst others stipulate a maximum carrier size they must fit into.
How long they are allowed to stay on board, if the service is several hours long.
Regulations can also include:
Only accepting pets that have been booked on board in advance, on a first come, first served basis.
A requirement to wear a muzzle throughout the journey.
A rule that your dog must fit on your lap for the duration of the journey.
An obligation to carry proof of their rabies vaccination status.
Having an up to date identification tag on their collar.
Pretty much all train operators also apply a broadly-worded rule that dogs on their services must not be disruptive or inconvenient to other passengers.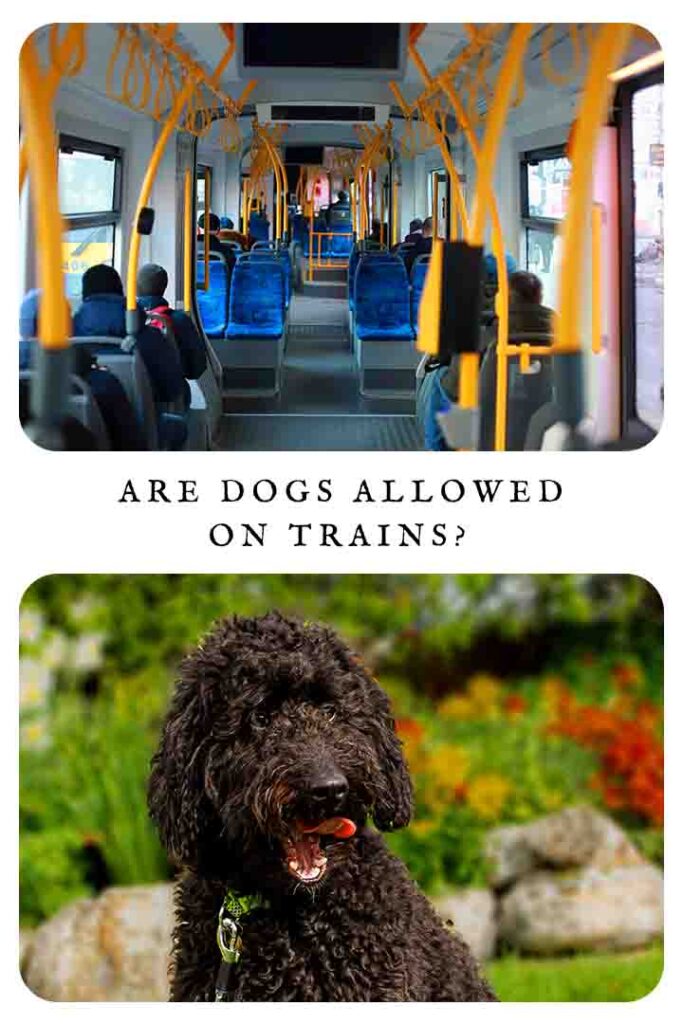 Are dogs allowed on trains in rush hour?
This varies by location, but a rule against on dogs during rush hour is a common restriction on rail services that carry a lot of commuters. For example, the Massachusetts Bay services in Boston and the and Chicago METRA both prohibit dogs during the morning and evening rush hour, but permit them at other times of day. Another common timing requirement is that dogs can only travel on services at weekends and on holidays (for example the Acela route from Boston to Washington).
Do you have to pay for a dog on the train?
Some (but not all) carriers charge a fee for traveling with your pooch. Typical prices are between $20 and $40. It's a good idea to check well ahead of your journey whether your dog is eligible to join you, and if so whether they need to be paid for in advance.
Can dogs sit on train seats?
No. We're not aware of any train services which permit dogs to ride on the seats, although some do insist that they sit in your lap. This makes a lot of sense, since it's also generally considered bad manners to put your outdoor shoes up on the seats.
Service dogs
The one notable exception to all the rules, restrictions, and fees described above is service dogs, as defined by the Americans with Disabilities Act. A service dog is:
'A dog that has been individually trained to do work or perform tasks for an individual with a disability. The task(s) performed by the dog must be directly related to the person's disability.'
Train operators are legally required to provide free transport for service dogs as part of their reasonable modifications to accommodate disabled travelers. Service dogs must be allowed to travel with their owner, and not be made to ride in a carrier, or in the baggage car. They can still be required to stay off the seats though!
The most dog-friendly train routes
There are 11 specifically pet friendly Amtrak routes, with designated pet coaches, mostly serving the lucky pet-owners of Illinois!
Cascades (British Columbia, Washington & Oregon)
Blue Water (Michigan)
Carl Sandburg (Illinois)
Hiawatha (Illinois & Wisconsin)
Illini (Chicago)
Illinois Zephyr (Illinois)
Lincoln Service (Illinois & Missouri)
Missouri River Runner
Pere Marquette (Michigan & Illinois)
Saluki (Chicago)
Wolverine (Michigan)
Tips for a successful journey
Travelling with your canine pal is packed with potential for being fun and rewarding. Lots of other passengers are likely to be keen to give them a bit of attention, and being surrounded by a captive audience of admirers is 7th heaven for a friendly dog like a Labradoodle. Here are our top tips for a stress free journey:
Check the rules surrounding the route you want to travel on. If you're travelling a familiar route but at a different time of day, it's a good idea to check that there aren't any restrictions you were previously unaware of. Before your journey, check that your dog still fits in their pet carrier, and that it is free from damage which might result in their permission to travel being revoked.
Make sure your dog gets a substantial chunk of their daily exercise before you set off, and furnish their carrier with blankets, a favorite toy, and something like a stuffed Kong or bully stick to keep them occupied on the journey.
For longer journeys, pack a leak proof water dispenser (or collapsible bowl and bottle of water) and some snacks or a small meal.
If the train service requires it, make sure you have proof of their vaccination status.
How do you travel with a puppy on a train?
There's one journey with your pooch which is just a little bit more special than all the rest. And that's the first time you bring them home. We receive lots of questions from people who are unsure how to collect their new puppy and get them home, when they're still unlikely to be toilet trained. And the answer to this is usually that puppies can be surprisingly good at holding their bladder when everything that's going on around them is so strange and unfamiliar, and they're kept in a crate. However it is a good idea to keep a couple of small dry towels in your luggage, and plastic bags for bagging them up if they get soiled.
Looking forward to the future, if you're planning lots of railway travel with your puppy when they grow up, make sure you keep visiting train stations and taking short journeys as part of your socialization efforts.
Can my dog travel on the train with me? Summary
Dogs can travel on a lot of train services in America, but there is a huge raft of restrictions on things like how big they can be, whether they have to be enclosed in a carrier, whether they count towards luggage etc. So always check ahead of time what the rules are on the route you plan to travel.
Is your dog a seasoned rail traveler? Tell us more about the adventures you've been on together, and your top tips for a relaxing journey, using the comments box down below.
More of your questions answered
 What causes rough skin on dogs' feet?
References
Frequently Asked Questions about Service Animals and the ADA. U.S. Department of Justice Civil Rights Division. Accessed December 2022.