There are so many male Labradoodle names to choose from. How can you ever pick just one name from so many great options?
But, having lots of great choices is part of the fun! You and your new pup can pick out the perfect boy Labradoodle name together.
Male Labradoodle Names – Quick Links
Let's get started with our all time favorite boy Labradoodle names.
Best Male Labradoodle Names
Does one of these popular options suit your new puppy's personality?
Alfie
Bailey
Bean
Bear
Benji
Bo
Bolt
Charlie
Chico
Dexter
Diesel
Duke
Elvis
Finn
Grogu
Gus
Harry
Jack
Levi
Mando
Marley
Max
Monty
Moose
Moss
Noah
Noodle
Oli
Oscar
Prince
Rocky
Scooter
Teddy
Theo
Thor
Toby
Toto
Tucker
Winston
Ziggy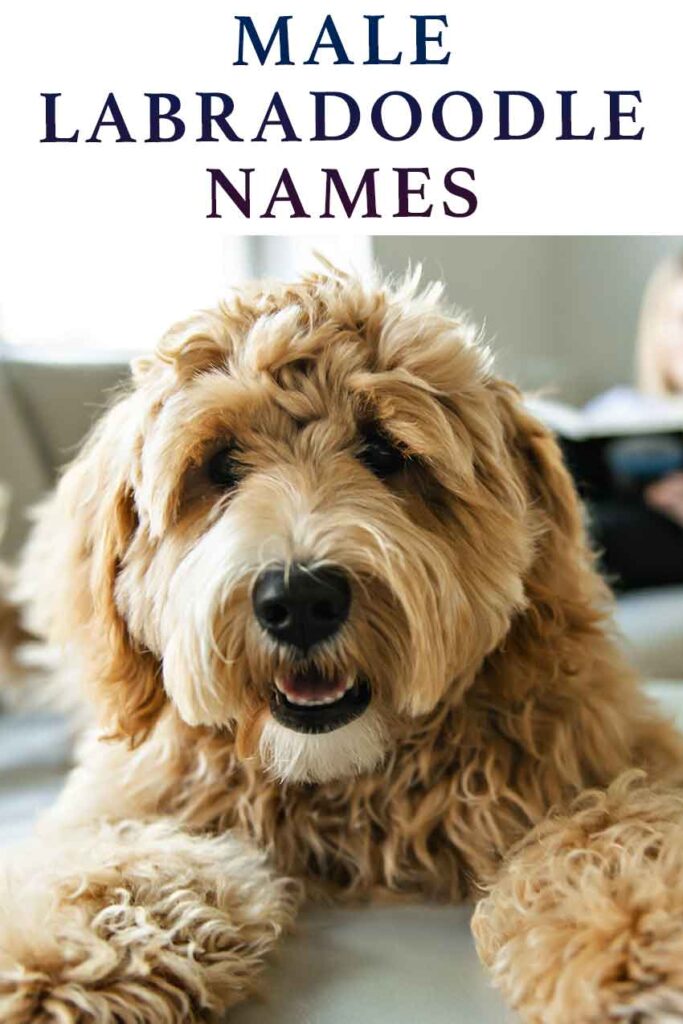 Do any of these make your final list?
Awesome Male Labradoodle Names
If you have the coolest dog around, you can use these awesome ideas to match your new dog's personality. Which one is the best fit for you?
Axel
Bentley
Cadet
Charlie
Clyde
Cupid
Dino
Dizzy
Elvis
Furby
Gabriel
Gordon
Gunner
Harley
Henry
Iggy
Jinx
Johnny
Kipling
King
Leo
Miles
Mr. Bean
Noel
Otis
Ozzy
Pops
Quill
Racer
Skye
Slade
Slinky
Striker
Tank
Trip
Uno
Vex
Westie
Yoyo
Zeke
Not everyone wants something so serious! How about a more lighthearted choice?
Funny Male Labradoodle Names
You can shorten each of these funny Labradoodle names for training or every day purposes.
But just like race horses often get funny/serious names that are a play on words, it can be fun to give your Labradoodle puppy or rescue dog a longer character name that only you and your closest friends know about.
Always Hungary
Andy Warhowl
Bark Wahlberg
Bilbo Waggins
Billy the Kid
Bull Winkle
Chips n Salsa
Cross Bow
Doodle Bug
Droolius Caesar
Duck Duck Moose
Flip Yo' Burger
Fresh Prints
Give Me Liberty
Gold Digger
Hairy Potter
Hoover
In Like Flint
Jabba the Mutt
Jersey Boy
Jimmy Chew
Jumbo Dog
Kibble Me This
Life's A Journey
Meatloaf
Muffin Chops
Muttley Crue
Pepe Le Poo
Prime Rib
Pup Norris
Pup Tart
Sherlock Bones
Snoop Dogg
Subwoofer
The Notorious D.O.G.
Walking Carpet
Watch Dog
Whiskey Before Breakfast
Winnie the Pooch
Wyatt Burp
Did these ideas tickle your funny bone?
Cute Male Labradoodle Names
Is there any dog cuter than a roly-poly cuddly little Labradoodle puppy? Your little Labradoodle boy won't stay little for long, but the cuteness will last for life. Just like these cute male Labradoodle puppy names!
Baxter
Bonkers
Bouncer
Brody
Bruno
Bugs
Bully
Butters
Camper
Chewie
Cuddles
Curly
Derby
Dodger
Doodle
Elliot
Fleecey
Goofy
Happy
Hugs
Kisses
Lamb
Lovebug
Lucky
Mammoth
Minty
Nibbler
Noddy
Paws
Prince
Rolly
Scooter
Squash
Tex
Waffles
Wendell
Whoopee
Wiggles
Woolly
Wild Bill
Cute names aren't for everyone!
Historical Male Labradoodle Names
Labradoodles, like many dog breeds today, can hail from different breed lines. But, whether you're interested in the history of this breed, or just history in general, here are some great name ideas.
Abraham
Arvo
Albert
Augustus
Bear
Billy
Bruce
Caesar
Calvin
Caniche
Charley
Churchill
Cobber
Darwin
Dickens
Edison
Elvis
Galileo
Gaston
Hamilton
Harley
Jefferson
Jet
Jetsam
Lincoln
Muhammed
Napoleon
Rally
Reckon
Roosevelt
Runner
Shakespeare
Stubby
Sultan
Teddy
Tesla
True Blue
Walt
Washington
Winston
Maybe you want something a little more modern.
Male Labradoodle Names Inspired by Comics and Video Games
While the Labradoodle dog breed hasn't been featured in too many comic strips or video games yet, there are still plenty that feature the parent breeds. Or, you can use inspiration from regular cool, tough or kind characters. They make for seriously unique names.
Which ones do you recognise?
Bandit (Labrador Retriever)
Bee (Labrador Retriever)
Bill (Cocker Spaniel)
Bowser
Brian (Labrador Retriever)
Brown (Labrador Retriever)
Bucky
Colossus
Daredevil
Dogmeat
Dredd
Ezio
Falcon
Flico (Poodle)
Gambit
Geralt
Goose
Hawkeye
Jasper (Labrador Retriever)
Jollipop (Labrador Retriever)
Joost (Labrador Retriever)
Kratos
Krypto (Labrador Retriever)
Link
Loki
Max (real life Auckland Labradoodle Minecraft whiz!)
Mr. Peanutbutter (Labrador Retriever)
Obelix
Pekkie (Poodle)
Ponta Koizumi (Labrador Retriever)
Rover (Labrador Retriever)
Sam (Cocker Spaniel)
Satchel (Labrador cross)
Spectre
Spencer (Labrador Retriever)
Spyro
Ulfric
Vision
Yankee (Poodle)
Zuma (Labrador Retriever)
Want something inspired by your Labradoodle's appearance?
Color-Inspired Male Labradoodle Names
One of the many best things about choosing the Labradoodle dog breed is their amazing coats. The Labradoodle coat comes in several textures and many wonderful colors and patterns, which inspires these ideas.
Apricot
Ash
Brownie
Cadburys
Caramel Corn
Chalky
Charcoal
Chocolate
Cloud
Coal
Coco
Coffee
Cola
Cream
Diesel
Ebony
Ember
Fudge
Ghost
Golden Boy
Greyson
Hershey
Hi Ho Silver
Ink
Latte
Lemon
Midnight
Muddy
Patch
Pepsi
Phantom
Raisin
Reece
Shadow
Slate
Smokey
Steel
Storm
Sunny
Tango
Want something to get people's attention?
Famous Male Labradoodle Names
Next to each one of these famous male Labradoodle names you will see the dog's owner's name in parentheses.
Alfred (Matthew Perry)
Bailey (Graham Norton)
Brother (Joe Biden)
Bunker (Jack Nicholas)
Calypso (Courtney & Ashley Peldon)
Carl (Neil Young)
Djinn (Barbara Eden)
Dodger (Jeremy Clarkson)
Dublin (Mark Gearan)
Finn (David Baldacci)
Milo (Dustin Brown)
Noodle (Oliver Platt)
Norman (Jennifer Aniston)
Odysseus (Courtney & Ashley Peldon)
Oliver (Ryan Seacrest)
Raney (Susan Rebecca White)
Riley (Tiger Woods)
Sonny (Andrew Taylor)
Soot (Hugh Panaro)
Tazzie (Tom Griswold)
TG (Richard Hammond)
Theo (Rory McIlroy)
Yogi (Tiger Woods)
Have you found your favorite male Labradoodle name here?
Tips for Naming Your Male Labradoodle
You will be using your Labradoodle's new name a LOT. In fact, in many ways the name you pick for your pup will form the foundation of your relationship.
The best names don't sound like common training commands. They are one or two syllables long so your Doodle can remember them more easily.
Choosing a name for your male Labradoodle puppy or rescue dog is a very personal process.
We highly recommend actually trying out different names you like by calling your pup and seeing what kind of response you get.
If you don't feel like that name gets your dog's attention, you can always change it! After all, you definitely want your dog's ears to perk up in anticipation whenever you call their name.
What Male Labradoodle Name Did You Choose?
Have you made your short list of your favorite male Labradoodle names from these lists? Now it's time to try them out on your pup until you find the one that fits!
When you pick your Labradoodle's new name, don't forget to pop back by and drop a comment to let us know which one you chose!
References and Resources
Lewis, L. (et al), 'History of the Labradoodle', Australian Labradoodle Association, Inc. (2021)
White, D. 'Famous Labradoodle Owners', Classic City Labradoodle Kennel (2021)
Jones, A. 'A Beginner's Guide to Australian Slang', Nomad's World (2017)
Reisen, J. '10 Things to Know About Poodles', American Kennel Club (2019)
Huffmaster, B. 'Labradoodle Breed History', Sutter Buttes Labradoodle Kennel (2021)
Pritchard, C. 'The History of the Cocker Spaniel (Gun Dog Group)', Powerscourt Cocker Spaniels (2021)