Unique Labradoodle names are a great way to set your Doodle apart from the crowd! Labradoodles are all the rage and it's easy to see why.
They're known for their intelligence, affectionate nature, and family friendly disposition.
Along with leashes, collars, food bowls and toys, you'll need the perfect unique Labradoodle name for your new puppy.
Here are the best unique names for your new Doodle.
Best Unique Labradoodle Names
Africa
Arlo
Asher
Axe
Blaze
Brixton
Cardi
Chili
Coconut
Cricket
Crush
Daffodil
Flynn
Henna
Kai
Kodiac
Mango
Ochre
Onyx
Sable
Sunflower
Tahiti
Timber
Valkyrie
Watson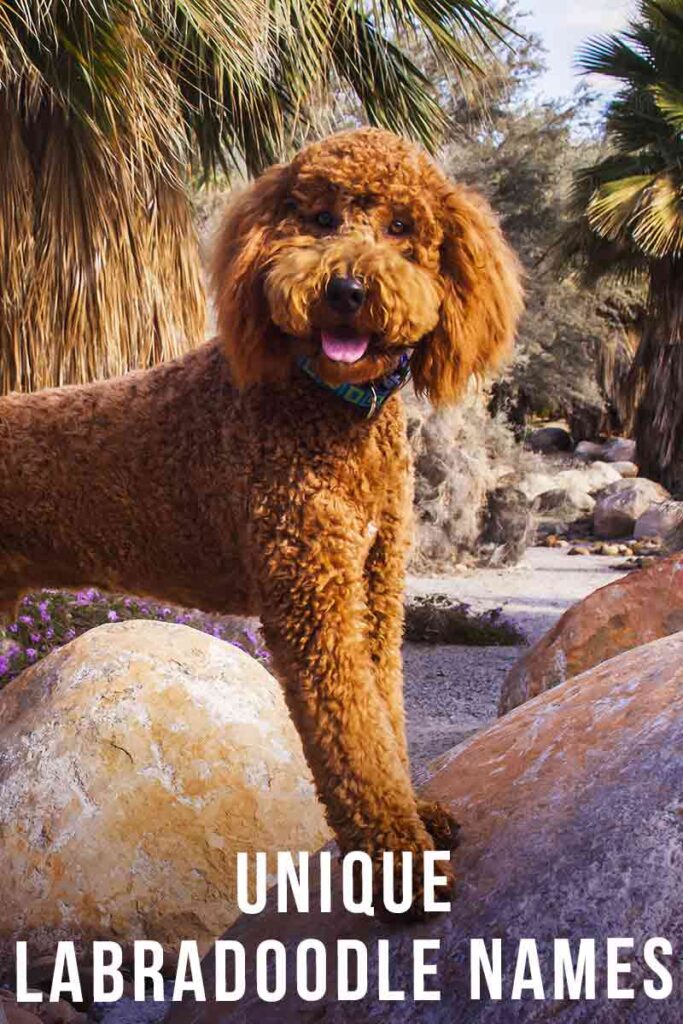 Tips for Finding Unique Names
Creating a list of unique Labradoodle Names doesn't seem like it should be that tough. But, picking the right name for your dog can be harder than it sounds.
Your dog's name gives him an identity, and is the basis for your relationship! It's often the first thing we give a pup, and helps to establish him as an important member of the family.
There are no rules when it comes to choosing a name. But, most experts agree two syllable names are easiest for dogs to learn.
What does the word "unique" mean to you? Uniqueness often has a lot to do with one's personal experiences in life.
So a unique name to one person could be very different to the next!
We've come up with some totally one of a kind unique Labradoodle names for you to consider.
Unique Female Labradoodle Names
The best unique girl Labradoodle names can be pretty and feminine, or tough and strong! Here are some of our favorites.
Anya
Cheroke
Darbie
Dolores
Dory
Dottie
Dreamer
Drusilla
Eden
Eleven
Esmerelda
Favor
Freedom
Geneva
Gypsy
Hadley
Holiday
Justice
Kat
Minx
Nyx
Raven
Red
Story
Summer
Unique Male Labradoodle Names
Just like female names, male name ideas can be strong or gentle! You'll love these totally unique Labradoodle names for boys below.
Aero
Hart
Comet
Cisco
Kingsley
Doc
Bristol
Harris
Elway
Knox
Tut
Felton
Bowie
Francis
Doonesbury
Pistol
Racer
Koda
Falcon
Fabio
Evander
Gilbert
Digby
Hayes
Corby
Unique Unisex Labradoodle Names
The great things about unique names is that they can apply to any gender. These ideas are corky, stand-alone, and fit both male and female dogs.
Alaska
Blue
Colby
Domino
Echo
Frankie
Gray
Happy
Hudson
Ivory
Kibbles
Kit
Link
Loki
Marlow
Moose
Nacho
Nova
Oakley
Pepper
Presley
Quinn
Riley
Riot
Skyler
Cute Unique Labradoodle Names
If Labradoodles are anything, they are cute! So, it's only fitting to consider some cute sounding unique Labradoodle names. Here are some of our favorites.
Angel
Baby
Bambi
Bean
Bingo
Birdie
Biscuit
Cinnamon
Cookie
Colt
Cupid
Curley
Dot
Fluffs
Goose
Lady
Mouse
Munchkin
Nixie
Peanut
Peewee
Pip
Squirt
Tigger
Tinkerbell
Funny Unique Labradoodle Names
Is your Labradoodle a furry little comedian? If so, here is the perfect list of funny sounding, but still unique, name ideas. You can also shorten these to create fun nicknames.
Barkley
Bark Twain
Chew-Barka
Chewie
Curly Fry
D.O.G.
Dogzilla
Groucho Barks
Jaws
Jimmy Chew
Lady Rover
Lady Waggington
Little Bow Wow
Little Bitz
Madam Toots
Mary Puppins
Mr. Munch
Mr. Toots
Nope
Notorious DOG
Pup Tart
Sir Barks
Sir Growls-A-Lot
Snoop Dog
Uncle Buck
Tough Unique Labradoodle Names
You might not immediately think "tough" when you think of a Labradoodle. But perhaps you still want your Doodle to sound a little badass! You'll love these don't-mess-with-me ideas below.
Ajax
Axe
Axel
Bruce
Brutus
Butch
Cage
Crush
Fang
Ghost
Harley
Hooch
Hulk
Killer
Maverick
Ninja
Rage
Rambo
Rebel
Rocky
Skull
Snake
T-Bone
Tornado
Zeus
Cool Unique Labradoodle Names
Is your Labradoodle the coolest kid on the block? While still completely unique, these names just scream awesome.
Arrow
Beau
Boomer
Captain
Carter
Cash
Casper
Chase
Fin
Fletcher
Harlow
Jasper
Jinx
Phoenix
Pilot
Pirate
Ranger
Ryder
Sailor
Sawyer
Shade
Sport
Tag
Whiskey
Whisper
Tips For Naming Your Labradoodle
Most dogs are able to learn their new name within a couple of weeks. But, Labradoodles are especially brainy. With the right training, they can learn much faster.
You should keep training sessions light and fun to hold your Labradoodle's interest. Keep training short and game-light, and give your Doodle plenty of breaks.
You should also avoid scolding or punishing your Labradoodle while teaching him his name. Remember, teaching your Labradoodle their name goes hand-in-hand with teaching a good recall.
He should want to come to you when you say his name, and is more likely to do so if you reward him each time he comes.
And, don't worry if you've rescued an older Labradoodle. Old dogs can still learn new tricks!
Use positive reinforcement with some good, tasty snacks and your Labradoodle should be quick to learn who he is!
What's Your Favorite Unique Labradoodle Name?
More than anything else, enjoy the naming process! It should be a fun endeavor for the whole household.
Did you find your perfect unique Labradoodle name in this guide? Or, have you got even more ideas for unique names to share?
Find More Name Ideas
References and Resources