Finding the right female Labradoodle names is just as important as investing in things like leashes, bowls, collars, and toys.
We have a collection of the best girl Labradoodle names lined up for you, including unique, trendy, cool, and tough options. There's a name out there to suit every type of female Labradoodle personality!
Let's get started with the most popular options.
The Best Female Labradoodle Names
Are you welcoming a new lady into your home? Here are the hottest Labradoodle names for girl dogs and puppies:
Abby
Bella
Coco
Daisy
Dakota
Dixie
Elle
Harper
Hazel
Koda
Lola
Lucy
Luna
Maggie
Millie
Nala
Nyx
Olive
Penny
Poppy
Riley
Rose
Roxy
Sadie
Stella
Choosing the Right Female Labradoodle Name
Just because the names in this guide are "female" Labradoodle names, they are not simply restricted to female Doodles. There are no gender rules here, and you can name your Labradoodle anything you want!
That said, experts recommend that owners follow some guidelines when picking out the best name.
Try to choose a name you're happy saying in private and public. Most dogs do best learning names that aren't too short, or too long. Two syllables is ideal!
But, Labradoodles are clever. So, if you have your heart set on a shorter or longer name, your Doodle will pick it up with proper training.
Plus, you can always give your dog a two-syllable nickname!
With that in mind, let's move on to the best girl Labradoodle names.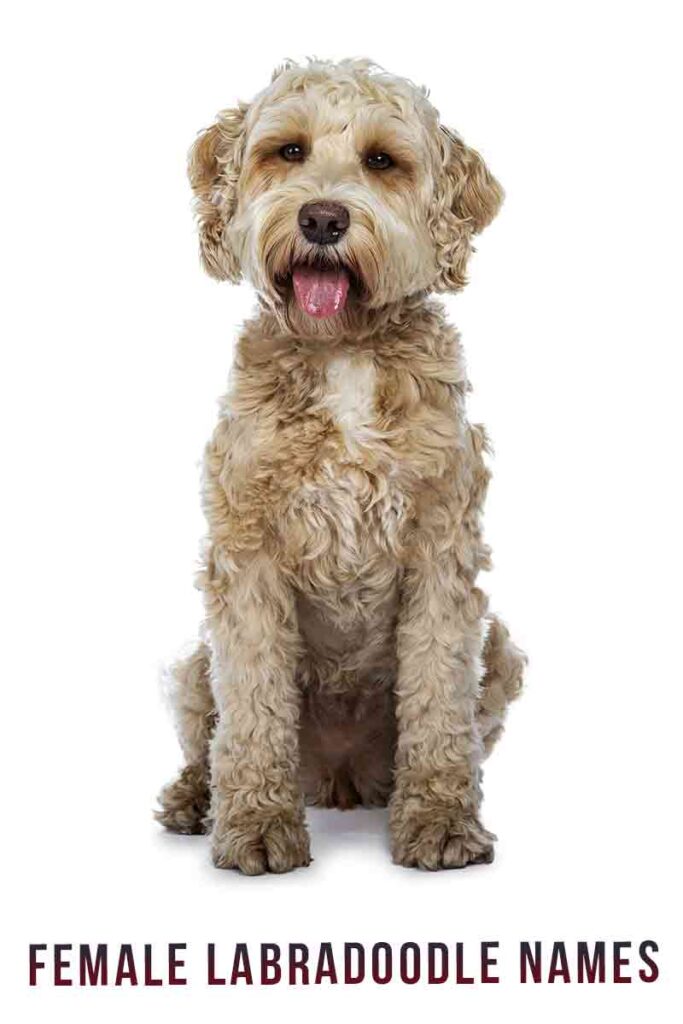 Cute Female Labradoodle Names
Labradoodles are adorable! Their curly fur and big eyes are irresistible. With that in mind, you might want to give your Doodle a name that's just as darling.
Bambi
Bean
Bear
Bisquit
Bonnie
Brownie
Buddy
Buttons
Cece
Cinnamon
Cookie
Curley
Daphne
Dory
Eloise
Fannie
Lady
Lovie
Moose
Mouse
Peanut
Pip
Princess
Pumpkin
Tigger
Unique Female Labradoodle Names
Labradoodles are a popular breed. So, it's natural that you want your girl to stand out from the crowd! These names have been chosen based on their one-of-a-kind sound and unique meaning.
Antoinette
Cheroke
Cleo
Daiquiri
Derbie
Dolores
Drusilla
Eden
Effie
Eleven
Estelle
Favor
Freedom
Goldilocks
Gypsy
Holiday
Indie
Inka
Karma
Lyric
Minx
Remmy
Rowan
Stormy
Story
Trendy Female Labradoodle Names
If you do prefer to stick with trends, why not choose one of these popular go-to doggy names? Here are some of our favorite, and some of the most popular among Doodle dog owners.
Adalee
Bella
Capri
Charlie
Clover
Comet
Curley
Emma
Gracie
Layla
Lila
Marley
Mochi
Mia
Olivia
Piper
Posey
Riley
Scout
Sienna
Sophie
Suri
Taylor
Winnie
Zoey
Unisex Names for Female Labradoodles
As we said earlier, there are no rules when naming your dog. You don't have to choose a girly name, or a masculine one. Here are some options that will suit any gender.
Alaska
Angel
Babe
Cameron
Coco
Domino
Emery
Frankie
Freckles
Gizmo
Gray
Happy
Kat
Moose
Morgan
Oakley
Oreo
Pinot
Pixel
Presley
Quinn
River
Rory
Sage
Sunny
Funny Labradoodle Girl Names
If your Labradoodle is hilarious from nose to tail, then these names will keep you grinning. Some of them are a little longer than recommended, but you can always shorten them into a nickname!
Bo Peep
Cookie Jar
Curly Fry
Jose Chew
Lady Barkley
Lady Dogiva
Madam Barks
Lady Rover
Lady Waggington
Madam Growls
Mary Puppins
Miss D.O.G.
Miss Groucho Barks
Pretty Bitz
Miss Piggy
Miss Toots
Pumpkin Spice
Pup Culture
Pup Tart
Queen of Barkness
Senorita Paws
Snookie
Spanx
Subwoofer
Trixie Pop
Tough Female Labradoodle Names
Labradoodles can suit tough names just as much as any other dog breed! Here are some intimidating, tough girl names for your feisty Doodle.
Astra
Athena
Axelle
Bomber
Crush
Ghost
Harley
Hunter
Katniss
Kevlar
Lioness
Major
Ninja
Nitro
Rage
Ranger
Rebel
Saber
Shadow
Soldier
Trigger
Wolf
Xena
Zelda
Zena
Cool Female Labradoodle Names
Girl Labradoodle names can be ridiculously rad! If your little Labradoodle is too cool for school, you'll love these awesome ideas.
Aspen
Aretha
August
Casper
Chase
Finnley
Fletcher
JoJo
Kona
Merlot
Pepper
Phoenix
Pirate
Raven
Ryder
Sailor
Sawyer
Scarlett
Skye
Snow
Vija
Winter
Whiskey
Whisper
Zoe
Tips for Choosing the Right Name
Finding the right name for your new Labradoodle can be as nerve-wracking as it is exciting!
It's a great idea to get your family involved in the process. This will help to build a strong bond between your entire household and your new dog.
As the newest member of the family, your pup deserves to choose from the best Labradoodle girl names you can think of. But, don't put too much pressure on yourself.
Remember to have fun!
If you're struggling to narrow down your favorite choice from the ideas above, try brainstorming a shortlist.
You can even try the names out on your dog. Say them when you're near her and see if she reacts to any of them in particular!
This is a fun way of letting your new puppy choose her own name!
Which Name Did You Choose?
Did you pick one of the names from this list? Or have you thought of one that we missed off?
Let us know in the comments so we can add them to our lists!
Looking for More Ideas?
References and Resources