These awesome dog names that start with W include some of the cutest, most fun, amusing and cool ideas around. From trending names from pop culture to those inspired by history and the natural world, today we share dozens of W names from Wilf and Wilma to Whizzer and Wags. Anything goes when you name your pup, but monikers that are relatively few syllables, with hard consonant sounds and elongated vowels, make it easiest for your baby dog to learn their name fast.
Contents
There are all sorts of W names, from formal and traditional to adorably cute and silly. We've gathered some of the best W names for your new dog here. Anything goes when it comes to naming a pet, but are there any expert tips on choosing a name for your dog? There are a few common sense naming suggestions out there that are worth passing on. Let's look at some of them now.
Choosing Dog Names That Start With W
Many experts recommend sticking to 1 or 2 syllable names that are short, simple and can catch a distracted dog's attention. Long names can be amusing and whimsical, but short names tend to work better. Of course, you can give your dog an "official" long fancy name, but you'll probably end up calling him by a shorter nickname anyway. You'll see this method used a lot with show dogs.
The overall sound of the name can be important in getting your dog's attention. A soft-sounding name may not work as well as a sharp, bold name. It's also a good idea to make sure to choose a name that doesn't sound too much like one of the common command words like sit, stay, or no.
Classic vs Modern Dog Names
That's mostly a matter of personal preference. Sometimes your dog's appearance and personality can be the best guide for that. You can take your dog's breed origin into account in the naming process. Maybe you'd like a German name for a Rottweiler or a French name for a Poodle. Trendy names are fun, but if everyone in town is giving their new puppy a popular name like Max or Bella, things could get confusing at the dog park or in doggy daycare.
Boy Dog Names that Start with W
Now that we've covered a few naming basics, let's get to the dog names that start with W! Here are some familiar male W names, followed by female W names.
Walter
Walt
Wally
Wallace
Wade
William
Will
Willie
Wills
Wilbert
Wilbur
Wilfred
Walker
Wilson
Wexford
Walton
Woodrow
Ward
Warden
Wardell
Wendel
Wichita
Winslow
Wyatt
Wilhelm
Waylon
Wray
Whit
Weber
Web
Webster
Winchester
West
Wesley
Wes
Wyoming
Weaver
Winthrop
Watson
Wynn
Waldo
Waldorf
Wayne
Wainwright
Warren
Wellington
Warwick
Girl Dog Names that Start with W
And now for some female dog names that start with the letter W.
Wanda
Waverly
Wendy
Wendie
Wendi
Wenda
Winifred
Winnie
Winifer
Winona
Wynona
Whitney
Wynne
Winter
Wynter
Wilhelmina
Wilhelmine
Wren
Willow
Willa
Wednesday
Willene
Wallis
Wynette
Wisteria
Wilma
Whisper
Waterlily
Wildflower
Wailea
Wendelin
Westley
Windflower
Wiley
Wylie
Wanetta
Williebelle
Willabella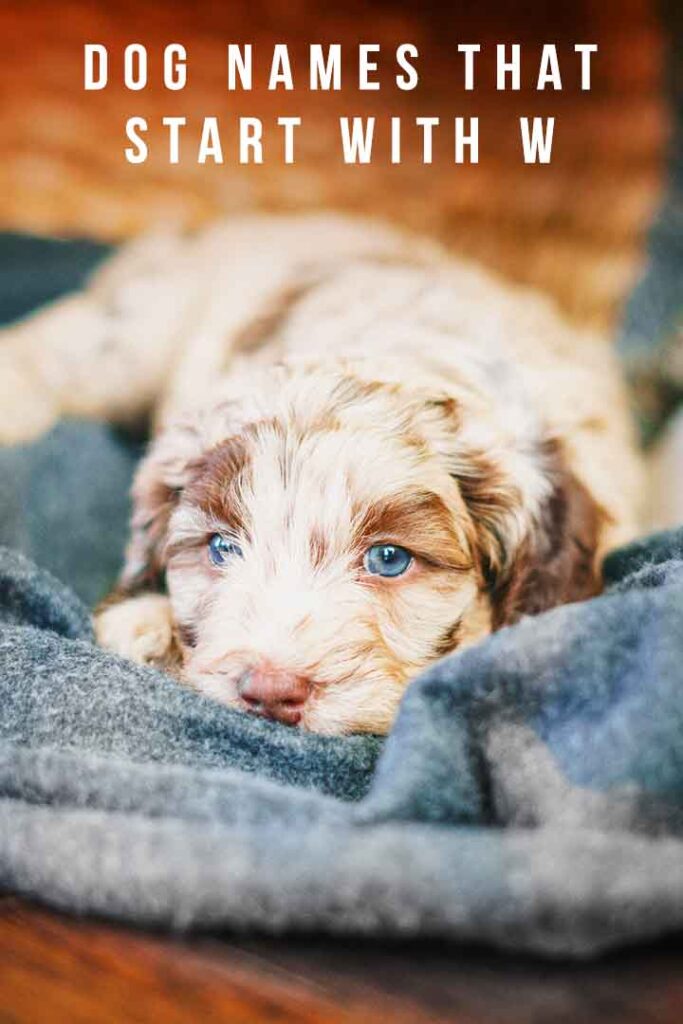 Cute Dog Names that Start with W
What are some other ideas for W dog names? Maybe your puppy or toy breed dog is just too cute for a formal name and you're looking for something adorable and cuddly! Here are a few ideas for cute dog names that start with the letter W.
Woody
Woodchuck
Woodstock
Wizard
Whitey
Windy
Winsome
Wiggle
Wiggles
Wasabi
Waggle
Waggles
Wags
Wisp
Wispy
Woof
Woofy
Widget
Wooly
Wicket
Wooly Bear
Wallflower
Wooly Bully

Weasel

Wink
Winks
Winky
Winkle
Wonder
Wallaby
Wombat
Wombles
Whisper
Wobbly
Wobble
Wobbles
Washi
Wasp
Whiz
Whizzer
Waffle
Waffles
Walnut
Weeble
Weebles
Weebly
Whistle
Whistler
Whiskers
Tough Dog Names that Start with W
Sure, Wiggles may be a great name for a Yorkie, but what about W names for big dogs? Here are a few rough and tough dog names that begin with the letter W.
Wolf
Wolfdog
Wolfie
Wolfgang
Wolfman
Wolfsbane
Wolverine
Watchman
Wilding
Wildman
Wild Thing
Wendigo
Warrior
Wrangler
Wanderer
Wanderlust
Funny Dog Names that Start with W
How about some silly W names for your new dog? Here are a few funny names to get started.
Whopper
Whale
Wino
Wahoo
Warthog
Worm
Witch
Warlock
Wimp
Wimpy
Whip
Whiplash
Wookie
Walrus
Weirdo
Wingo
Walleye
Whiskey
Weiner Dog
Weiner Schnitzel
Wheels
Whirlwind
Famous Dog Names that Start with W
You can also name your dog after famous people or characters from movies, TV, comics, or cartoons. Here are some familiar names from popular culture that start with W.
Wishbone
Wonder Woman
Wilt Chamberlain
Wee Man
Wall-E
Weasley
Wendy Testaburger
Wakanda
Wesley Snipes
William Shakespeare
Wreck-It Ralph
Whoopi Goldberg
Woodrow Wilson
Wolfman Jack
Walter White
Willy Wonka
Wile E. Coyote
Winnie the Poo
Winston Churchill
Wu-Tang Clan
Exotic Dog Names that Start with W
Finally, let's look at some W names from different languages. Here are some male and female W names from all over the world, with their origins and meanings.
Waan: sweet (Thai, female)
Wapi: lucky (Native American, male)
Widad: love (Arabic, female)
Wystan: battle stone (Old English, male)
Walerian: strong (Polish, male)
Wakumi: spring (Japanese, female)
Waleed: newborn (Arabic, male)
Wen: culture (Chinese, male or female)
Wasim: handsome (Arabic, male)
Winta: desire (African, female)
We hope we've given you a bit of dog naming inspiration! Whether you pick a traditional W name or something unique and outside-the-box, enjoy the process of naming your new four-legged friend!
Can Kids Pick Your Dog's Name?
There's nothing wrong with letting kids pick a name, especially if you're OK with something that might be a little silly. It's fine to wait a while before you make a final decision. This way you can see if the name is a good match for your new dog's personality. You can also test out some names to see how your dog reacts.
Should Adopted Dogs Keep Their Name?
Should you keep it or change it? Most experts say it's fine to change it if you want to. Incorporate the new name into training and reward your dog when she responds to it.