Tough Labradoodle names are fun, feisty, and badass! Even though some people might not consider a Labradoodle a "tough" dog, that doesn't mean you can't give yours a tough name.
You can get inspiration from famous villains, a cool pun, or even just a tough sounding human name.
25 Best Tough Labradoodle Names
With the New Year comes a list of awesome and popular tough Labradoodle names. Here are the hottest names of 2021.
Arrow
Axe
Blaze
Blitz
Brutus
Bullet
Crusher
Diablo
Fang
Gunner
Kong
Magnus
Mammoth
Onyx
Pirate
Rambo
Rex
Sniper
Soldier
Spike
Striker
Tank
Tigar
Viper
Wolf
This list of fresh dog names is for those who enjoy being on the cutting edge and those who want a name to withstand the test of time.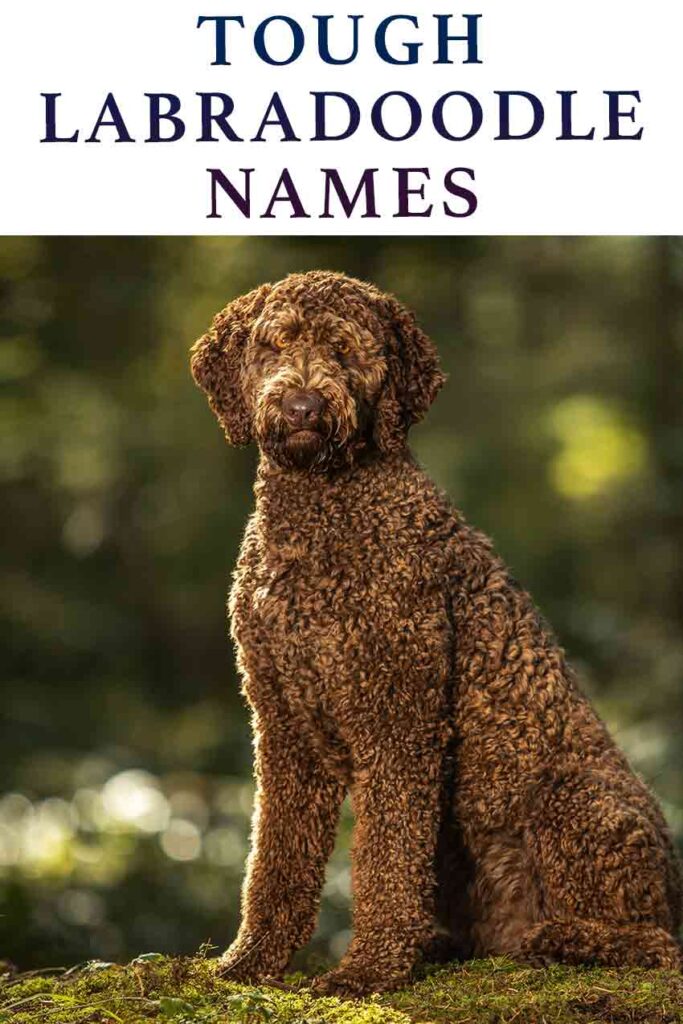 Tough Labradoodle Names
Did you land yourself a new Labradoodle puppy or rescue dog? If so, congratulations are in order!
Along with investing in food bowls, bedding, toys and leashes, you'll also want to pick out a nice, strong name for your Labradoodle. Tough names can be a great choice for these dogs.
Even tough name ideas can be split into different categories. Here are the different tough ideas we'll cover today:
Tough Names for Female Labradoodles
Do you have a badass female Labradoodle? Your tough lady deserves a name fit for a warrior princess. This list channels the strong and the feminine into a worthy and tough Labradoodle name for a doodle dog who is both cute and powerful.
Athena
Artemis
Bex
Cougar
Daenery
Diva
Drusilla
Eden
Eleven
Elexis
Esmerelda
Fable
Fera
Freya
Geneva
Gypsy
Harley
Hera
Huntress
Jazz
Justice
Karma
Katana
Leia
Links
Luana
Magna
Mercy
Minx
Naples
Ness
Nyx
Ola
Padme
Raven
Roxy
Ruby
Suki
Tess
Vera
Or, do you have a boy Labradoodle that needs a tough name?
Tough Names for Male Labradoodles
Masculine names are great for badass Labradoodles. We've listed some of the best tough ideas for boy Doodles here!
Ash
Baxter
Bruce
Bruno
Cash
Chief
Comet
Dante
Duke
Dray
Evan
Falcon
Felton
Gaz
Harv
Huxley
Ivan
Jason
Kingston
Knox
Lance
Mack
Magnum
Maverick
Nash
Nitro
Ozzy
Pistol
Pyro
Radon
Rager
Ripley
Riptide
Rocky
Rogue
T-Bone
Titan
Trapper
Tut
Zao
Maybe you want something a little less gender specific.
Tough Unisex Labradoodle Names
Tough dog names aren't designated for male or female dogs, and if you're in the market for unisex options, then this is the list for you.
Alaska
Atlas
Bam
Bash
Bone
Boomer
Cam
Coda
Dakota
Dean
Echo
Eron
Fire
Flame
Flinn
Harper
Ice
Ivory
Jinx
Kevlar
Kodak
Langham
Marlow
Marvel
Moose
Nova
Ovie
Phoenix
Quin
Radar
Ringo
Riot
Sammy
Smash
Sparks
Tanner
Tobacco
Venus
Xyla
Zed
Tough dog names don't always have to be so serious.
Ironic Names for Tough Labradoodles
Imagine you have a very large Labradoodle and you've invested in a spiked collar and intimidating haircut. Then, you pick a hilariously not-so-tough sounding Labradoodle name.
We love making people do a double-take, and these names will do just that.
Angel
Baby
Beaux
Bliss
Blue
Bunny
Candle
Cuddles
Dame
Dear
Dream
Fairy
Fate
Friend
Gem
Goose
Heart
Honor
Icon
Juliet
Kisses
Lacey
Lemon
Magic
Maple
Mini
Mouse
Mystery
Nana
Nibbles
Oats
Olive
Perdy
Prince
Rabbit
Rainbow
Sage
Smiles
Tinkerbell
True
Funny names don't just have to be ironic.
Funny Tough Labradoodle Names
If you love making people chuckle, it's a great idea to consider a funny sounding Labradoodle name. Of course, you can still have tough and strong Labradoodle names that make people grin.
Al Pupcino
Arf Vader
Barkley
Bark Twain
Bilbo Waggins
Bitey McBiters
Chew-Barka
Chunk Norris
Davey Bones
Doc Savage
Doga Fett
Dog Brown
Dogzilla
Donnie Barko
Doomsday
Dr. Demon
Groucho Barks
Indiana Bones
Jabba the Mutt
Jaws
Lady Rover
Lady Scratchington
Little Chomps
Little Ow Ow
Luna Lovewoof
Madam Doom
Madam Fang
Mr. Killer
Mr. Miyagi
Mr. Munch
Murder Dog
Nope
Notorious D.O.G.
Palpuptine
Pup Norris
Pup Tart
Sir Growls-A-Lot
Sherlock Bones
The Dogfather
Uncle Buck
Some of the best tough names come from our favorite characters.
Tough Labradoodle Names Inspired by Fictional Characters
You may recognize some of these famously tough villains and characters listed below. Each of these names has been specifically chosen with a Labradoodle dog in mind and are all designed to make your pup seem super badass.
Arya
Asterix
Athena
Bane
Batman
Brienne
Darth
Deadpool
Dracula
Dredd
Gollum
Hades
Hannibal
Hercules
Hulk
Joker
Katniss
Kugo
Lex
Lucifer
Luthar
Luther
Magneto
Medusa
Morpheus
Mufasa
Scar
Skywalker
Storm
Thanos
Thor
Ultron
Ursula
Vader
Venom
Voldemort
Xena
Yoda
Zelda
Zeus
There are plenty of other places to find inspiration.
Cool Tough Labradoodle Names
If your Labradoodle is cool and tough, we have the best combination of cool sounding tough Labradoodle names you'll love.
Akelia
Aldo
Alpha
Armina
Bazook
Blue
Boomer
Bravo
Bullet
Caliber
Casper
Chase
Colonel
Dagger
Delta
Duke
Finn
General
Ghost
Glory
Humvee
Jagger
Jet
Jinx
Liberty
Merlot
Missile
Niko
Pilot
Private
Rhett
Ruger
Runner
Ryder
Sawyer
Shots
Tag
Trigger
Whiskey
Whisper
Having trouble choosing one name from this list?
Tips for Choosing Your Labradoodle's Name
There are no real rules when it comes to naming your dog. But it's still a good idea to give your dog's name some thought.
Remember, you'll be saying this name both in private and in public, and you'll be repeating it multiple times a day. So, pick a name that's easy to say and that you're comfortable saying in public.
Dogs tend to pick up more quickly on two syllable names like Riley as opposed to one syllable names like Jack or three or more syllable names like Maranda or Anastasia.
Of course, that doesn't mean shorter or longer names should be off the table. You always have the option of giving your Labradoodle a nickname, (which many of us do anyway).
Or simply working with your Labradoodle a bit longer on the name of your choice to help him learn it.
Labradoodle dogs especially are known for their dynamic brains, so don't count them out. Chances are that, with proper training, patience and repetition, your Labradoodle should be able to learn his name within a matter of weeks.
Why A Good Name Matters
Choosing the right name for your Labradoodle helps give your dog an identity and place in your family. Plus, it is often the first thing you'll teach your Labradoodle.
Try and keep the naming process fun and lighthearted. And during training, avoid punishing or scolding your Labradoodle if he doesn't pick up on their name right away.
Your Labradoodle's name goes hand-in-hand with learning a good recall, and it's important your dog trusts he can come to you when you call.
So, what do you think about our above list of tough Labradoodle names? Do you have a few favorites? Let us know your favorite in the comments!
References and Resources